UCSD Center for Veterinary Sciences and Comparative Medicine veterinarian and neuroscientist receives Javits Award.

Christina Sigurdson, DVM, PhD, Dipl ACVP, professor of Pathology, UCSD; and professor of Pathology, Microbiology and Immunology, UC Davis School of Veterinary Medicine; and a recognized leader in the pathogenesis of prions, is a 2022 recipient of the Javits Award.
The National Institute of Neurological Disorders and Stroke (NINDS), awards this distinction to investigators who have demonstrated scientific excellence and impressive productivity in their research. This award can fund Dr. Sigurdson's research for up to 7 years and further her discoveries on protein misfolding and neurological diseases.
The Javits awards were instituted in 1983 in honor of U.S. Sen. Jacob Javits of New York, who was a strong advocate for research on a variety of neurological disorders. Javits suffered from amyotrophic lateral sclerosis, the disabling neurodegenerative disease also known as Lou Gehrig's disease.
Congratulations, Christina!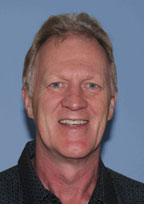 A Message from Peter Ernst, D.V.M., Ph.D.
Director of the Center for Veterinary Sciences and Comparative Medicine
When I arrived at UC San Diego in 2011, I was thrilled to bring my backgrounds in veterinary medicine and biomedical research to an exciting joint initiative between the Faculty of Health Sciences at UC San Diego and the School of Veterinary Medicine at UC Davis. For me personally, this was an ideal opportunity to bring together expertise from these outstanding veterinary and medical schools to enhance the academic mission for both professions.
In creating the Center for Veterinary Sciences and Comparative Medicine, we are providing a base for approximately 25 academic veterinarians in the San Diego area who contribute to research, education and clinical training in veterinary and medical sciences. Collectively, we participate in a range of activities relevant to veterinary medicine including comparative pathology, diagnostics in neuromuscular diseases and infectious diseases, research, post-graduate research training, workshops and residency programs in laboratory animal medicine and veterinary pathology. Through our collaborations and training programs, graduate veterinarians can get involve with outstanding opportunities that draw on a research and educational environment committed to "One Health/One Medicine".
This website is our welcome to you and a guide to more detailed descriptions or our activities related to the University of California Veterinary Medical Center in San Diego, various research resources and core facilities at UC San Diego and UC Davis, many of which are particularly relevant to comparative pathology and comparative medicine, information for undergraduates interested in a career in veterinary medicine, and descriptions of our faculty and their academic interests that may benefit your training in biomedical research and our shared quest to improve the health of animals and humans through a fundamental understanding of comparative medicine.